Brief Biography of Professor Awad Kh. Alasmari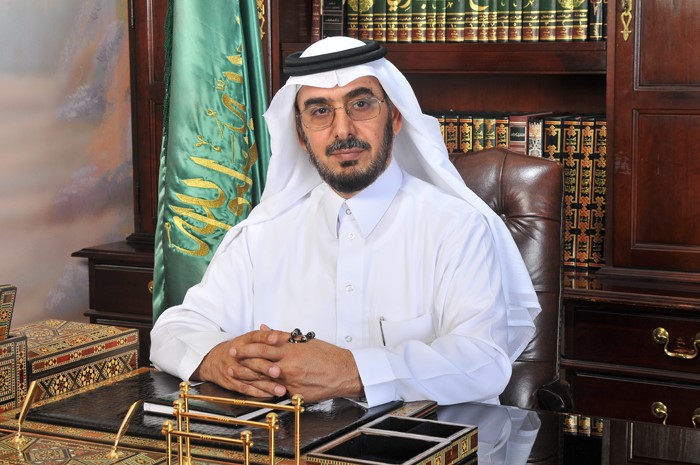 Professor Awad Alasmari is the current rector of Shaqra University, Saudi Arabia, He earned his bachelor's degree in electrical engineering from King Saud University, master's degree from Ohio State University, Columbus, Ohio, USA, and PhD in Electrical Engineering from the University of Toledo, Toledo, Ohio, USA.
Alasmari has more than 35 years of experience in academia, holding different roles and responsibilities. Prior to joining the University, he was a member of the Shoura Council (a consultative assembly) of Saudi Arabia from 2013 to 2016. He also served at Prince Sattam bin Abdulaziz University as the vice rector for graduate studies and research and contributed immensely towards its development. He worked as a professor in Electrical Engineering Department at King Saud University and confidently contributed towards the development of the department to be  promoted later as the dean of the College of Engineering at Al-Kharj (under the management of King Saud University).
Alasmari played a major role in the development of Prince Sattam Bin Abdulaziz University as a vice rector for graduate studies and research. During his stint, he was successful in establishing an international co-operation between Prince Sattam Bin Abdulaziz University and University of California, Irvine, USA. This co-operation contributed positively towards the research of the University and also helped students acquire research skills at Irvine campus. He initiated a wide range of multidisciplinary research activities designed to cope with  global and regional challenges.  
As the rector of Shaqra University, Alasmari always seeks to ensure improvement in students' insights and skills. He prioritizes plans that support students' learning experience. His inclination of excellence towards international scientific research is a springboard to encourage academic staff and students to engage in research activities and international cooperation with other universities around the globe. He is leading Shaqra University towards excellence in education and research, and positively transforming the campus that caters the latest needs of students, faculty members, staff, and administrators. He is highly committed to drive the University towards global excellence. 
Alasmari has received many prestigious awards from the government of Saudi Arabia such as honor shield from His Royal Highness Prince Faisal bin Khaled bin Abdulaziz, honor shield from Deanship of Graduate Studies at King Saud University. He has numerous publications in IEEE and refereed international and national journals.
Authored Books
Technical Books
 
Description
1 

Edited Book Entitled "Discrete Wavelet Transforms - A Compendium of New Approaches And Recent Applications" with Intech Publishers. ISBN978-953-51-0940-2.

2

Useful Formulas and Algorithms for Engineering and Science. Published by the author, ISBN 9960-43-483-4, February 2003.

3

Wireless Network and its Applications into Internet (Arabic), Alyamamah press, No. 96, November 2001. ISBN 9960-780-99-6.

4

أنظمة الاتصالات اللاسلكية و شبكة الإنترنت - مؤسسة اليمامة الصحفية – كتاب الرياض 96- نوفمبر 2001 م.

5

A Published Chapter Entitled : "Low Bit Rate Video Compression Algorithm Using 3-D Discrete Wavelet Decomposition " in " Discrete Wavelet Transforms - Algorithms and Applications " ISBN 978-953-307-482-5 

6
      Digital Image Processing (Transform, Enhancement, Restoration, and Compression) (Arabic). معالجة الصور الرقمية (تحويل, تحسين، استرجاع، ضغط) تحت الطبع

 

7
      Data compression techniques. Under Publication.
8

An Introduction to Digital Communication (English). To be published.
Arts and Science
 
Description
1

Trip to U.S.A.: Memorandums and Experience.
رحلة إلى الولايات المتحدة الأمريكية ( تجارب و ذكريات) لم ينشر بعد.

2

A Historical Book about Asser (Balassmar) in the Last 300 years (Science and Political).

كتاب تاريخي عن منطقة عسير (بللسمر) في الـ 300 سنة الماضية (علم و سياسة) لم ينشر بعد.

3

Eyaa Valley study of the archeology in the process of writing.
وادي عياء الحياة الفطرية + تراث.

4

Studying and of some of the manuscripts in Al-Suroor Bin Mared Library.