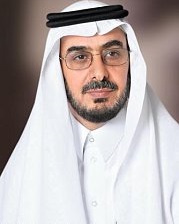 Dr. Awad Bin Khozim Al-Suroor Bin Marad Al-Asmari
Rector's Message: --
Welcome to Shaqra University's electronic gate. Whether you are a student, parent or a visitor, we hope you will find this resource helpful.
"We at Shaqra University are highly committed and dedicated towards building a university that caters best knowledge environment and fulfills student's goals towards achieving excellence in education and producing the best citizens".
Forming a strategy that helps provide the best study environment and addressing the needs of highly changing world is the top priority at Shaqra University. We strongly believe that carving the minds of young generations will help improve the lives of people and highly contribute to satisfy the needs of society through need-based innovations.
Shaqra University is on a fascinating path of growth and development. The University currently employs more than 1500 staff members and has more than 32,000 students enrolled in 24 colleges across the cities of Shaqra, Sajar, Thadq, Afif, Huraymla, Al Quwaiiyah, Dhurma, Duwadimi and Almuzhamiya. Shaqra University's colleges are spread over a wide geographical area.
Our faculties and institutes include: Faculty of Health Science, comprises the School of Medicine, Applied Medicine, Pharmacy, Engineering Faculty at Dwadami, Faculty of Science, and Faculty of Education at Shaqra, Faculty of Community Science and many others.List of Colleges Affiliated to Shaqra University 
Furthermore, the University is highly committed towards a globally competent workplace with best available resources in research and development. Our University aims to add essential strength and professional standards to the faculties by adding highly qualified and research-oriented faculty members. This comes in line with providing an extensive library resources with online and physical access with huge knowledge database. It is worth mentioning that Shaqra University is successfully running its scientific journal since 2013.